You should never think "pig butchering" scams are so far from you. The name of such a scam comes from the Chinese and millions of billions of money will possibly be lost if you're not cautious enough. Here are some tips for identifying a pig butchering scam.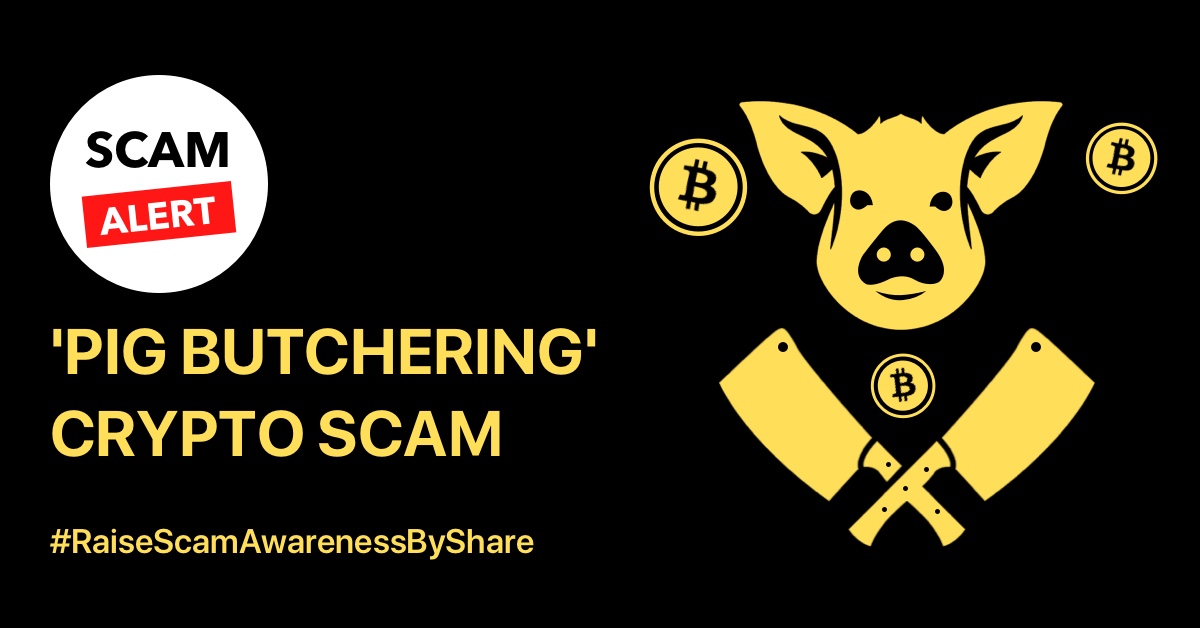 What is Pig Butchering Scam and How does It work?
The pig butchering scam is a type of cryptocurrency scam that targets individuals and investors who are looking to invest in cryptocurrency. The scam artists create fake investment platforms and use social media and other online channels to attract potential investors. They promise high returns with little to no risk, and ask the investors to deposit their funds into the platform.
Once the funds are deposited, the scammers quickly disappear and the platform becomes inaccessible. In some cases, the scammers may demand additional fees or taxes to release the funds, which they use as an excuse to stall and extract even more money from the victims.
5 Warning Signs for 'Pig Butchering' Scam
The pig butchering scam can be difficult to identify, but here are some warning signs to watch out for:
Alert#1. If you receive text messages or emails from unknown people and you're "naturally" led to frequent conversations afterward, that must be a scammer.
A good beginning is half done, which is also fit for scammers. For scammers, a good start refers to participating in a dialogue with a 'pig', that is, a target victim. Scammers may either pretend to be contacted by previous owners of the numbers or those by accident texting or emailing to wrong numbers. Once the dialogue starts with a sentence, the dialogue will go on and on.
Some pig butchering scam text samples:
"I think I added the wrong number. Sorry, because I have many business partners, the assistant may have misremembered Mr. Mark's number. I hope you don't mind if I disturb you, I'm sorry"
"I come from beautiful Hong Kong. There are friends from all over the world here. I don't know why your phone number appears in my address book, but I don't have any malicious intentions"
"Hello" – That's a simple greeting seducing you to reply to continue a dialogue.
"Have you had dinner yet, honey?"
If contact has been established between a scammer and a victim, more "natural" topics will be concerned in the later dialogues like "What did you have for breakfast?" or "Do you like running in the morning?". The trust will constantly and unconsciously go up between a scammer and victim via such ordinary topics.
One-Word Tip to Avoid Scammers
Just ignore ALL messages from unknown numbers no matter what is said.
Alert#2. If the other end (if Alert#1 makes it) refuses to talk via calls, that must be a scammer.
If the scammer makes it via Alert#1, conversations will go smoothly between a victim and a scammer. Nevertheless, that should be CAUTIOUS when phone call suggestions are denied. Of course, they don't apparently refuse but find some excuses like their low capability of spoken English or some issues with their phones. Or they distract your attention to calls with some other emergent things.
One-Word Tip to Avoid Scammers
Normal marketers never refuse phone calls because that's the easiest way to expand their businesses. However, scammers hate phone calls because they're afraid to be exposed.
Alert#3. If the other end always redirects the topic to high-profit investment, that must be a scammer.
Keep in mind, that your friends never lead you to high-profit investment all the time. If you feel the other end of the message is nice and friendly and really understands you, he or she should never trap you in investment. High-profit investment may not be first mentioned during your dialogues so soon, but luxurious life may be displayed to you. For example, a couple of houses or cars are usually shown to you, or long-time vacations may be introduced. Those are all starters or triggers to prepare for the advent of high-profit investment. The reason why luxurious life is shared with you is to trigger your wants. If you are immune to such expensive life things, they will direct you to think more about the difficulties you've met in real life. A true story is told on Forbes about one man that lost $1 million to a cryptocurrency scam just result of the scammer "Jessica's" understanding and "encouragement" about all the difficulties in life like ill dads or family raising demands.
One-Word Tip to Avoid Scammers
No one really would like you to invest money unless scammers. Whenever an investment is mentioned to you at any place or time, that must be a scammer.
Alert#4. If the other end always flirts with you, that must be a scammer.
What scammers are good at is flirting with anyone even though they may be fake. Just imagine the staff working in a shopping mall. Whenever something new is tried on, there will always be good words around you. That's also what a scammer does to you.
One-Word Tip to Avoid Scammers
Only two types of people around you think you're worth praising always. One is your parents; the other is scammers.
Alert#5. If the other end really makes you earn some money at the first investment, that IS a scammer.
To let victims earn some money is an effective way to further trap them into high investment. In a word, small money earning is the final wall stopping you from scams and if you insist on going through it, you'll fall into the trap. If you can stop by the wall, it'll be safer and better. Like the Ponzi scheme, when victims are able to earn some small amounts of money, the trust will be instantly established so that more money will be invested to expect higher profits.
One-Word Tip to Avoid Scammers
Never believe in high profits without hard work.
RealCall AI: a One-to-One Mobile Communication Guardian
This is how RealCall works on your phone: OpenAI + RealCall Blocklist.
Simply put, the more you use RealCall, the less risk you'll receive spam or scam calls.
Between You and Scammers is RealCall AI as a One-to-One Mobile Communication Guardian.
Powered by OpenAI, the leading AI research and deployment company, RealCall AI is capable of automatically dealing with all risky and unwanted texts behind the screen. Based on the AI language model, ChatGPT 4 can analyze and process language input to identify patterns, sentiments, and intent and sense the trivial malicious intent hidden in the text message ordinary people fail to notice. Plus, with the continuously updated risky number database developed by RealCall team and long-term users' reports, RealCall AI is capable of accurately and quickly identifying scam-likely texts and dealing with them in users' personalized ways.
Instead of blocking alone, RealCall AI is capable of letting pass all the important and necessary text messages that really belong to users' demands like those from real hospitals, banks, etc. Between you and scammers is RealCall AI as a one-to-one mobile communication guardian.