Although it's inconceivable that people would take advantage of the elderly, there is an increasing number of senior scams targeting this vulnerable population. Elderly people face all of the same scams as everyone else, but some scams disproportionately affect the older generations. Elder fraud is vastly underreported, according to a study by Comparitech. The study estimates 5 million cases of elder fraud occur in the US alone each year, resulting in $27.4 billion in losses. This means that 38 percent of fraud cases target the elderly. These unscrupulous people are skilled at gaining the trust of senior citizens so they can rob them of their money or identities. Our detailed guide covers typical scams and offers some great tips for protecting against fraud. So read on to learn how to protect yourself!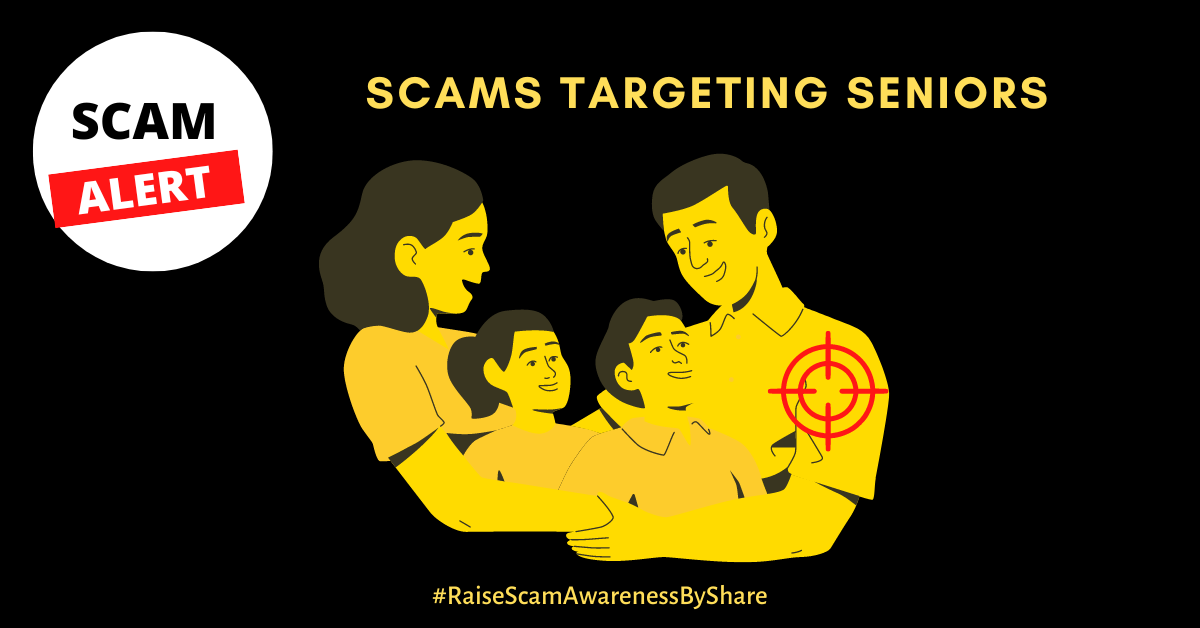 Phishing Scams
Pronounced like fishing, phishing scams are one slippery mess for older persons who fall victim to this type of swindle. Phishers present themselves as someone the senior can trust, which often makes elderly people fall for the scam. Then, the phisher convinces the senior or another victim to pass along their most sensitive data. This can include computer passwords and usernames, your social security number, credit card information and debit card PIN numbers, or sometimes even bank account numbers and account access information.
Most phishing scams involve the use of instant messaging and email spoofing. Phishers will disguise themselves as IT administrators, online payment processors, banks, auction sites, social media platforms, and any other source elderly individuals could believe. They also are adept at creating fake websites that look exactly like the real thing.
Tech Support Fraud
Tech Support Fraud is the most reported Fraud among Over 60 Victims. Tech support scammers continue to impersonate well-known tech companies, offering to fix non-existent technology issues or renew fraudulent software or security subscriptions. However, in 2021, there was an increase in complaints reporting the impersonation of customer support, which has taken on a variety of forms, such as financial and banking institutions, utility companies, or virtual currency exchanges. Many victims report being directed to make wire transfers to overseas accounts, purchase large amounts of prepaid cards, or mail large amounts of cash via overnight or express services.
Bogus Anti-Aging Products
This elderly scam is focused on today's society putting tremendous stress on physical appearance, many older people give their best to look younger than they actually are. Therefore, the cosmetics market is flooded with beauty products with anti-aging properties. Some scammers see this as an excellent opportunity to capitalize on people's vanity, so this is another elder fraud abuse.
Some claim that their fraudulent anti-aging products contain all-natural ingredients that will work miracles, but they are, in truth, completely ineffective. Others sell fake Botox products, which are not just useless but can also be quite toxic. That's why it's a good idea to get yourself acquainted with the regulations concerning consumer protection for seniors.
Confidence Fraud/Romance Scams
Confidence Fraud/Romance scams encompass those designed to pull on a victim's "heartstrings".
Romance scams occur when a criminal adopts a fake online identity to gain a victim's affection and confidence. The scammer uses the illusion of a romantic or close relationship to manipulate and/or steal from the victim. The criminals who carry out Romance scams are experts at what they do and will seem genuine, caring, and believable. The scammer's intention is to quickly establish a relationship, endear himself to the victim, gain trust, and eventually ask for money. Scam artists often say they are in the military, or a trades-based industry engaged in projects outside the U.S. That makes it easier to avoid meeting in person—and more plausible when they request money be sent overseas for a medical emergency or unexpected legal fee. Grandparent Scams also fall into this category, where criminals impersonate a panicked loved one, usually a grandchild, nephew, or niece of an elderly person. The loved one claims to be in trouble and needs money immediately. In 2021, over 450 Over 60 victims reported Grandparent scams, with approximate losses of $6.5 million. Con artists are present on most dating and social media sites.
Lottery/Sweepstakes/Inheritance
In 2021, victims lost over $53 million to these types of fraud. The initial contact in a lottery/sweepstakes scam is often a call, an email, a social media notification, or a piece of mail offering congratulations for winning a big contest, lottery, or sweepstakes the victim did not enter. To claim their prize, the victim is required to pay upfront fees and taxes. The subjects will continue to call victims for months or even years, promising the big prize is only one more payment away. Inheritance scams function very similarly as the victim is informed an unknown, distant relative has left a large inheritance to the victim. The victim is required to pay taxes and fees to receive the inheritance money
Government Impersonation
While government impersonation is not reported as often, millions of dollars are still lost by the elderly to criminals impersonating government officials. The criminals often extort victims with threats of physical or financial harm to obtain personally identifiable information. In 2021, victims over the age of 60 reported this type of fraud over 3,300 times, with losses of $69 million. The subjects generally demand prepaid cards, wire transfers, or cash to be mailed or sent overnight
The Grandparent Scam
Another common fraud against the elderly includes the "grandparent" phone scam. Fraudsters call a senior citizen pretending to be their grandchild. They usually start the conversation with "Hi, grandpa/grandma!" and ask the grandparent to guess who's calling.
When the target says the name of one of their grandchildren, the perpetrator asks for a favor, which is always some kind of financial help. In addition, they ask the grandparent not to tell their "parents" about this. Since con artists don't have to do any background research for this type of fraud, it's one of their favorites.
Investment
Illegal and unethical investment practices, known as investment fraud, often use tactics like offering low-risk investments and guaranteed returns to lure in victims. Common examples of investment fraud include Ponzi schemes, pyramid schemes, and market manipulation. Scammers often target specific demographics, like older individuals or specific ethnic groups, to build trust and carry out the scam. It's important for investors to thoroughly research and gather information before investing in any new opportunities. In 2021, over 2,100 individuals over the age of 60 reported falling victim to investment scams, resulting in losses of over $239 million.
Funeral Scams
There are two types of funeral senior fraud. In one scenario, perpetrators read obituaries and use the information they get to contact the grieving widow or widower. When they get in touch with them, they claim that the deceased owed them a considerable amount of money, trying to extort that sum from the deceased's family.
This type of senior scam and fraud may also involve dishonest funeral homes, whose goal is to deceive family members by adding unnecessary charges to the bill. For example, they try to sell an expensive casket for a deceased who is going to be cremated.
Cryptocurrency
In 2021, 5,100 complaints were reported from over 60 victims who had experienced some type of scam involving cryptocurrencies such as Bitcoin, Ethereum, Litecoin, or Ripple. The total amount of losses suffered by these victims was over $241 million. Cryptocurrency is becoming the payment method of choice for all types of scams, including SIM swap scams, tech support fraud, employment schemes, romance scams, and even some auction frauds. It is particularly prevalent in investment scams, where victims can lose hundreds of thousands of dollars. Cryptocurrency ATMs, which are automated machines that can be used to purchase cryptocurrency, are becoming increasingly common. Regulations on these machines are lax and transactions are almost instantaneous and irreversible, making them attractive to criminals. The most common types of scams reported were confidence fraud/romance, investment, employment, and government impersonation.
COVID-19 Scams against the Elderly
Some of the most common scams related to the pandemic include:
Vaccine scams—Scammers contact the seniors offering them to skip the line and get a vaccine sooner. Of course, this means giving them personal, medical, or financial information.
Buying vaccines—There have been quite a few bogus online pharmacies offering to sell online vaccines.
At-home test kit scams—The FDA has authorized at-home diagnostic COVID-19 tests. However, scammers posing as Medicare representatives ask for social security numbers in return for a "free test kit." And some even promise overnight delivery.
Elderly phone scam on errands—Older people have faced the problem of not going to the grocery store and doing their shopping during the pandemic, so they ask younger people to do that for them. Bad actors may offer to do it, but they will only take the money and run off. That's why the elderly should ask a favor from a family member or a trusted neighbor.
How can seniors avoid scams?
When an older adult receives a suspicious call, they should:
Ask for their full name, title, and association with their claimed organization.
Never act before getting all the information.
Never give any personal or financial information.
Make sure their computer has up-to-date antivirus and security software protection.
Call the police if they feel any fear for themselves or their loved ones.
What Steps to Take If You've Been Scammed Online?
There are some basic steps to take once you have identified that you have been an unwilling participant in an online scam.
If you gave out your banking information – contact your bank immediately.
If you gave out your credit card information – contact your credit card company or bank that issued that card.
Call the Federal Trade Commission at 1-877-382-4357 or go to their online form.
File a police report with local law enforcement in your area.