Don't be a victim of a disability benefits scam! Everyone should be aware of the dangers of scammers trying to take advantage of those who are eligible for disability benefits, including identity theft, fraud, and online scams. To protect yourself from being a victim of these kinds of scams, it's important to know how to identify and avoid them. In this blog, we'll discuss the different types of disability benefits scams and provide tips on how to protect yourself from falling prey to them.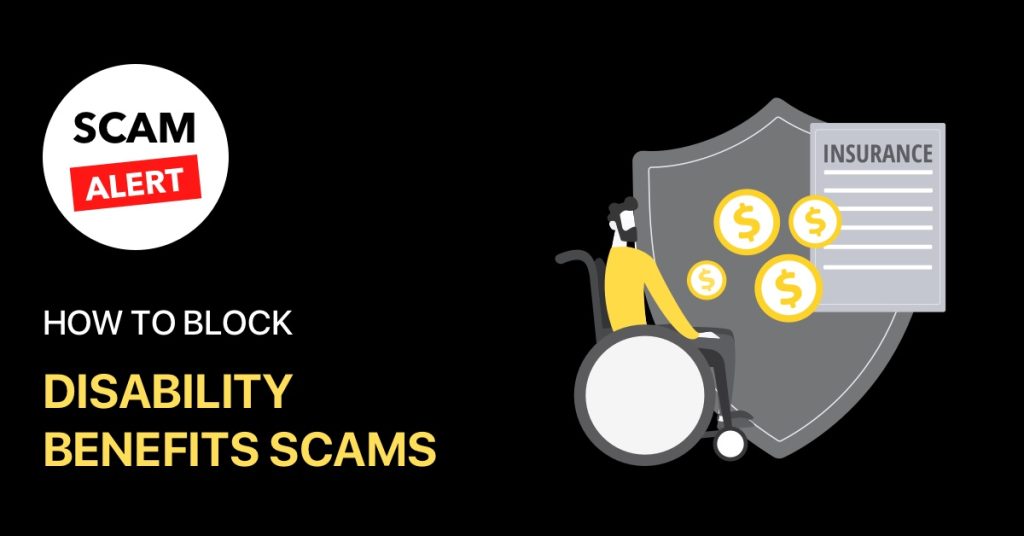 Red Flags of a Disability Benefits Scam
Scammers are constantly trying to take advantage of those with disabilities and their families. It's important to be aware of the warning signs of a potential scam so that you can protect yourself and your family from becoming victims. Here are some of the most common red flags of a disability benefits scam:
The scammer is offering an easy or fast way to get disability benefits.
The scammer promises guaranteed results, no matter what your circumstances.
The scammer requires an upfront fee for "services."
The scammer asks for personal information, such as Social Security numbers or bank account information.
The scammer refuses to provide you with written information about their services.
The scammer offers free medical or legal advice.
If you come across any of these warning signs, you should take precautions and be sure to verify the legitimacy of the service provider before engaging in any transactions. Remember that legitimate disability benefits providers never guarantee results, so if someone is offering this kind of assurance, it's likely a scam.
Who is Most Likely to be Targeted by a Scammer?
Scammers often target people who need disability benefits. People with disabilities, their families, and those who work to help individuals receive the benefits they need are all potential targets.
Scammers may target people who have just been approved for benefits or those who have yet to be approved but are in the process of applying. These scammers will often prey on the vulnerability of an individual in need of assistance, offering fraudulent or deceptive services that promise to speed up the application process.
In addition, scammers may target those who have already received benefits by attempting to solicit payments or personal information in exchange for continuing their benefits. It is important to note that the Social Security Administration will never ask you for money or sensitive information over the phone or through email. If you receive a call or email requesting such information, hang up immediately and report the incident to your local Social Security office.
Besides, scammers also target veterans receiving disability benefits from the Department of Veterans Affairs (VA). These scammers may attempt to solicit money or sensitive information by falsely claiming to be affiliated with the VA. It is important to be aware of these scams, as the VA will never ask for money or personal information over the phone or email.
How to Avoid Falling Victim to a Disability Benefits Scam
Never provide your personal information such as Social Security numbers or bank account information to someone you don't know. If someone claiming to be from the government, a social security office or other official-sounding entity asks for this information, it is likely a scam.
Do not pay upfront fees for services. Many fraudulent companies will ask for money upfront, promising that they can get you the disability benefits that you need. This is a red flag and should be avoided.
If you are offered a "free" evaluation of your case, be cautious. Sometimes scammers may offer to evaluate your case free of charge but then turn around and offer services at a cost. Be wary of these offers and be sure to read the fine print.
Check out any company or individual offering to help with your disability benefits before signing any agreements or contracts. Make sure to research their background and read reviews from other customers.
Never accept promises of quick results. Applying for disability benefits can be a long process. No one can guarantee you a certain outcome or promise to get you disability benefits in a short period of time.
Consider investing in an all-in-one digital security solution. RealCall app is capable of smartly blocking spam calls and text messages behind your smartphone based on a database. Furthermore, users are also allowed to customize blocking items based on preferences and demands with top-rated identity theft protection and credit monitoring to keep your entire family safe.
Powered by OpenAI, the leading AI research and deployment company, RealCall can automatically provide feedback to spam or scam calls and texts based on a vast risky number base and by analyzing users' behavior patterns to understand individual preferences and needs. Don't let any unwanted call disrupt a user's life and guarantee each important call and message to arrive.
Following the above tips can help protect you from falling victim to a disability benefits scam. If you suspect that someone is trying to scam you, make sure to report them right away so that others don't fall victim to their scheme.
What to do if you think you're being Scammed
If you think that you may be a target of a disability benefits scam, it's important to act right away. The sooner you act, the more likely you are to avoid becoming a victim.
First and foremost, never give out your personal information or send money to someone who contacts you out of the blue. This includes Social Security numbers, bank account numbers, passwords, or any other sensitive data.
Next, report the scam to the proper authorities. Contact the Social Security Administration's Office of the Inspector General at 800-269-0271. You can also report scams to the Federal Trade Commission at 877-382-4357 and the Federal Bureau of Investigation's Internet Crime Complaint Center.
Finally, alert family and friends about the scam. Let them know what happened and how they can protect themselves from becoming a victim of a disability benefits scam.
How to Report a Disability Benefits Scam
If you think you are the victim of a disability benefits scam, it is important to act as soon as possible. Reporting scams can help protect other potential victims and ensure that the scammer is brought to justice.
You can report a disability benefits scam to your local law enforcement agency. If you believe the scam involves fraud or deception, contact your state's attorney general's office. You should also file a complaint with the Federal Trade Commission (FTC).
If you have given out sensitive personal information, such as bank account numbers or Social Security numbers, report it to your bank and credit bureaus to prevent potential identity theft. Consider also placing a fraud alert on your credit reports.
Additionally, you may report the scam to relevant government agencies. For example, if you think someone is trying to defraud the Social Security Administration, call the Social Security Fraud Hotline at 1-800-269-0271.
Finally, you can also report disability benefits scams on the Scam Tracker website. This website is run by the Better Business Bureau and contains information about reported scams in various states. It also provides advice on how to avoid scams.