Every day, scammers are looking for new ways to take advantage of unsuspecting victims. Unfortunately, some of the most common scams involve advanced fee scams, which require a victim to pay a fee upfront in order to receive money or services. Thankfully, there are steps you can take to identify and avoid advanced fee scammers. We'll look at the different types of advanced fee scams and the warning signs to watch out for. We'll also cover what to do if you think you've been targeted by an advanced fee scammer.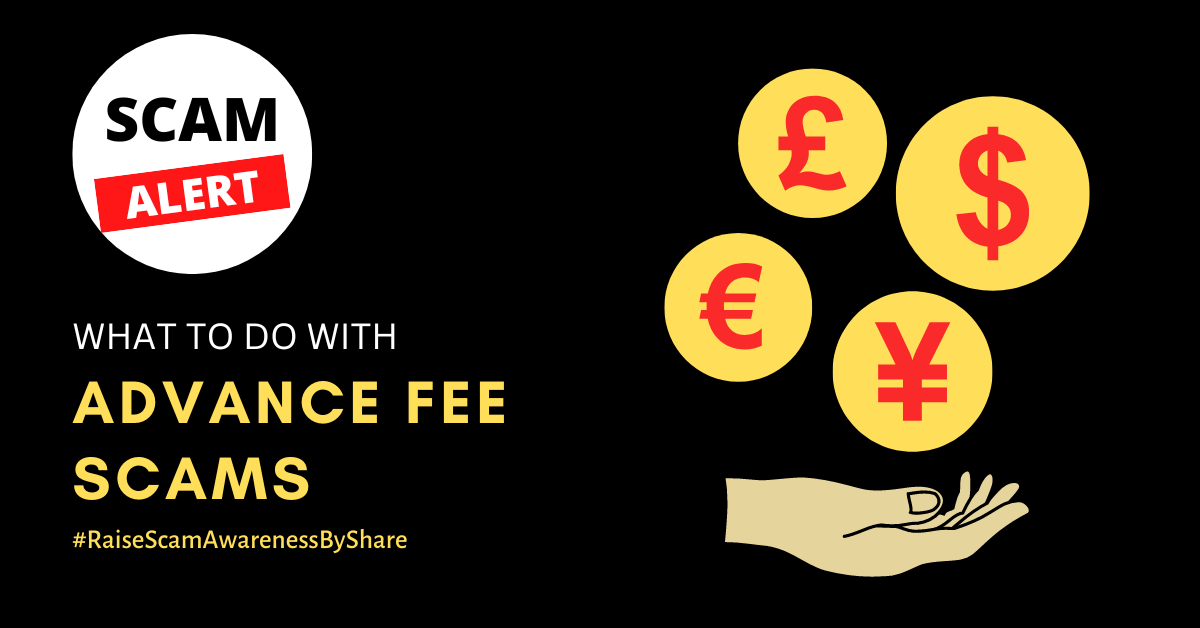 What Are Advance Fee Scams?
Advanced fee scams are a type of fraud that requires an upfront payment, or advance fee before any goods or services can be obtained. Advanced fee scams typically involve someone promising a large sum of money or other benefits if the victim pays a certain fee first. The fees can range from a few hundred dollars to thousands of dollars. The scammers use high-pressure tactics to convince the victim to pay the fee, often threatening serious consequences if the victim does not comply. Once the victim has paid the fee, the scammer will usually disappear or ask for more money. Victims are often left with nothing to show for their payment but an empty bank account and lost hope.
How do Advance Fee Scams Work
Advanced fee scams are a type of fraud that requires victims to pay upfront for something that is never received. The scammer will usually require money up-front as a processing fee or in order to secure access to a "limited-time" opportunity. They may also require payment for goods or services that are never delivered.
The most common way for advanced fee scammers to target victims is via email, social media, or other online platforms. They typically create fake websites and profiles in an attempt to seem legitimate. They may also use phony phone numbers and addresses to make it more difficult for victims to track them down.
Common Types of Advance Fee Scams
Advanced fee scams can take many forms, including romance scams, business deals, inheritance schemes, lottery and sweepstakes scams, job offers, and investment opportunities. Regardless of how they appear, they all share the same common goal – to get people to send money without delivering on their promises.
Nigerian letter scam
It is a form of email fraud where the victim is asked to pay a fee in order to receive a large sum of money from abroad. The scammer promises that the victim will receive a large sum of money for helping to move money out of Nigeria. Unfortunately, this money does not exist and the victim is asked to pay fees for processing, taxes, or legal documents in order to release the funds.
Advance Fee Loan Scam
This type of scam involves scammers pretending to offer easy loans with low-interest rates, but they require upfront fees before they provide any loan. Victims are often asked to pay fees for processing, appraisals, insurance, or other costs associated with the loan. However, after paying the fees, they never receive the loan.
Romance Scam
It targets those looking for love online. The scammer will pretend to be interested in a romantic relationship with the victim and ask for money for various reasons such as travel expenses or medical bills. Once the victim pays the money, the scammer disappears.
How to Avoid Advance Fee Scams
Advance fee scams are a common type of fraud and have been around for decades. The scammers target unsuspecting victims who are often desperate for help and promise them a financial reward or service if they pay a fee upfront. Unfortunately, victims of these scams rarely receive anything in return for their money. Fortunately, there are steps you can take to avoid becoming a victim of an advance fee scam.
Do your research.
Before you commit to any type of transaction with an individual or company, do your research and ensure that they are legitimate. This includes verifying the website, doing a background check on the individual or business, and verifying any references they provide.
Be wary of "too good to be true" promises.
Scammers often use exaggerated promises to entice victims into paying a fee. If something sounds too good to be true, it probably is. Be sure to verify any claims made by the individual or company before you agree to any transactions.
Don't pay fees upfront.
No legitimate company will require you to pay a fee upfront without providing any services or goods in return. If someone requests payment before providing anything of value, be suspicious and do not agree to the transaction.
Don't provide personal information.
Never provide personal information such as your social security number, bank account number, or credit card number to anyone unless you know they are legitimate.
Trust your instincts.
If something feels wrong or you have any doubts about the legitimacy of the transaction, don't proceed. It's better to be safe than sorry.
Use a call-blocking app to protect you from scam calls, as scammers tend to contact previous victims, using different identities to commit other frauds.
What to Do if you've Been Scammed
If you suspect you have fallen for an advance fee scam, acting fast is key to mitigating any further damages.
Break off all contact with the scammer at once. Block their email addresses and telephone numbers.
Alert your bank if you have handed over your account or card details. They will cancel your card and issue you with a new one.
Check your credit report for signs that your identity has been stolen, such as new lines of credit being opened and job applications in your name. If you think you've fallen victim to identity theft, you can freeze your credit report or place a fraud alert.
Change your passwords if you're worried your online accounts may have been compromised. Use a password manager to create complex and unique passwords for your accounts and store them securely from hackers.
Contact your credit card provider if fraudulent purchases have been made. Federal law guarantees your liability is limited to $50.