No one wants to be the victim of a tech support scam. Unfortunately, these scams are becoming increasingly common. Knowing how to spot and avoid tech support scams can help you protect yourself from becoming a victim. Here we are going to discuss the telltale signs of a tech support scam and provide practical tips on how to protect yourself.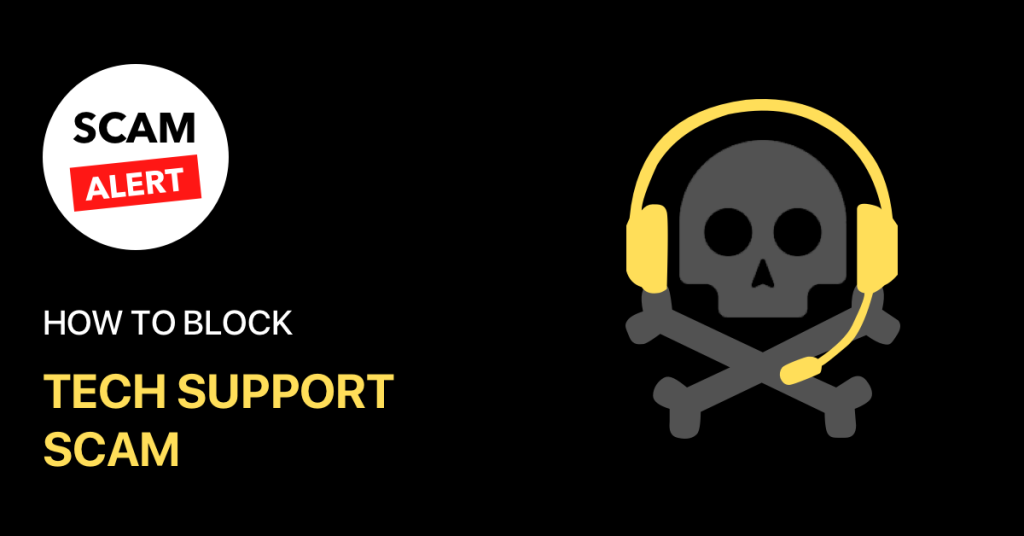 What is the Tech Support Scam and How does it Work
The tech support scam is a type of cybercrime that has become increasingly prevalent in recent years. It typically starts with a malicious pop-up advertisement or cold call from a phony tech support company claiming to be associated with a legitimate brand. The scammer will attempt to convince the target that their computer has been infected with malware and urge them to call the fake tech support number for help.
Once the victim calls, they are directed to a service representative who will try to convince them to purchase expensive services or software to fix the issue. The scammers may also try to access the target's computer remotely, allowing them to install malicious programs or steal sensitive data.
These scams can also take other forms, such as convincing targets to pay for services that don't exist or claiming that the victim owes payment for technical service.
No matter what form it takes, the tech support scam is all about making money off unsuspecting victims. The scammer may use fear tactics, such as making threats about a computer virus or citing legal repercussions, in order to convince the victim to pay up. It's important to remember that no reputable tech support company will ever make such demands or threats.
The Red Flags of a Tech Support Scam
Tech support scams are becoming increasingly common and sophisticated. In order to protect yourself from becoming a victim of one, it's important to be aware of the common red flags.
Unsolicited contact
Tech support scammers often use a variety of methods to reach out to unsuspecting victims including email, phone calls, pop-up ads, and online chat messages. If you are not expecting a call or message from tech support, it's a sign that it could be a scam.
High-pressure tactics
Tech support scammers often attempt to scare victims into providing personal information or paying for unnecessary services by using high-pressure sales tactics. If someone is pressuring you to purchase something or provide personal information, it is likely a scam.
Requests for remote access
Legitimate tech support companies will never ask for remote access to your computer without your consent. If someone requests remote access without your permission, it's a sure sign that it is a scam.
Unprofessional behavior
Tech support scammers are often unprofessional in their communication with victims. If the person contacting you is rude, unprofessional, or makes unrealistic promises, it's likely a scam.
Claims of free services
If a company is offering free services that seem too good to be true, they likely are. Legitimate tech support companies will never offer free services and any offers should be treated as suspicious.
If you come across any of these red flags while interacting with a tech support company, it is likely a scam. It's best to hang up and report the incident to the authorities as soon as possible.
How to Avoid Tech Support Scams
1. Be aware of unsolicited calls from companies claiming to be tech support. Legitimate tech support will never call you out of the blue. If you receive a call from someone claiming to be from tech support, hang up and look up the company's customer service number yourself.
2. Don't provide personal information or credit card details over the phone. Legitimate tech support will never ask for your credit card details or other sensitive personal information over the phone.
3. Don't download software from unknown sources. Any software or application that you download should be from a trusted source such as the App Store or Google Play Store.
4. Don't believe threats. Be wary of any tech support representative who makes threats or pressures you into taking immediate action. Legitimate tech support representatives will never threaten or pressure you into buying their services.
5. Use an anti-spam app. Anti-spam app RealCall can help to filter out malicious text messages before they even reach you. These programs are designed to detect potential spam messages and block them before they reach you.
6. Read reviews before purchasing tech support services online. Before signing up for any online tech support services, take some time to read user reviews to ensure that you're dealing with a reputable company.
By following these simple tips, you can protect yourself against tech support scams and stay safe online.
What to do If you've Been Scammed
If you think that you may have been scammed by a tech support scammer, it's important to act quickly. Here are some steps you should take to minimize the damage and protect yourself:
1. Contact your bank or credit card company: Immediately contact your bank or credit card company to report the scam. They should be able to reverse any fraudulent charges and help you protect your accounts from further fraud.
2. File a complaint with the FTC: It's important to alert the Federal Trade Commission (FTC) of the scam. You can file a complaint online, or call the FTC's toll-free hotline at 1-877-382-4357.
3. Change your passwords: Change all of your online passwords and security questions as soon as possible. Use a secure password manager to generate long, random passwords for each of your accounts.
4. Update your security software: Make sure that your security software is up-to-date and running scans regularly. It's important to keep your system safe from malware and other malicious threats.
5. Monitor your accounts: Keep an eye on all of your accounts for suspicious activity. Report any unauthorized transactions or changes to your bank or credit card company right away.
By following these steps, you can help protect yourself from further harm and potentially recover losses if you've been scammed by a tech support scammer.