When it comes to scamming, crooks know no age limits. Scams come in all shapes and sizes, and anyone of any age can become a victim of a fraud scheme, so it's important to learn about them and how to protect yourself from them. While scams are most often associated with the elderly—and certainly there are plenty of malicious people preying on the senior population—younger people aren't immune to being defrauded or taken advantage of by scammers. In this article, we will look at some of these differences, and hopefully help you become more aware of what kind of scams are targeting you so you can avoid them in the future!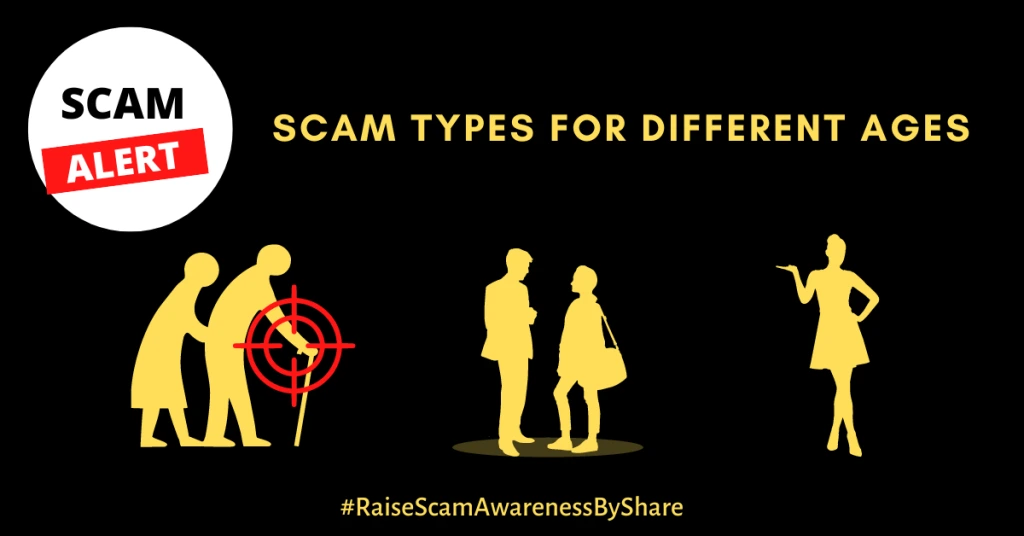 Teen/Younger adults 20s-30s,Gen-Z, Millennials
If you are a teenager or younger adult, be aware of scams involving seemingly easy ways to make money (such as getting paid to work from home or to advertise for your car brand). If you are in your 20s and 30s, watch out for "fixing" or debt-related problems.
According to the Federal Trade Commission (FTC), common work-at-home scams include:
Start of Internet business
Padded envelopes
Do assembly or craft work
Handling rebates
Medical billing
Mystery Shopping
Work as a personal or virtual assistant
A multi-level marketing plan to survive in recruitment, not retail
Many of these scams require upfront fees, and try to sell expensive services to increase your chances of success, or require you to pay for equipment, supplies, training, or certification. Be wary of ads that promise a high income from working from home – especially when you have to "pay to earn".
According to the FTC, a car wrap scammer may send an email offering to pay you $250 to $350 per week to drive a wrapped car to promote a well-known product or event. Once you agree, the scammer sends you a check to deposit into your bank account so you can use some of that money to pay an expert to place an ad on your car. The scammer will make you pay the expert in a way that is difficult to cancel or to get reimbursed for, for example:
Gift Cards
Money Order
Market Currency Services
The problem is that there are no experts and the check is fake. By law, banks are required to provide deposited funds quickly, so the money appears to level out in your account – but if the check proves to be fake, the bank recovers the amount from your account, and if you don't have the money, your account may be closed and you will be responsible for returning the money to the bank.
When it comes to debt-related scams, the Federal Trade Commission says no government program can pay your monthly advance or fees, no one can forgive your student loans if you pay them, and none can guarantee that your creditors will forgive your debt. Victims of these scams not only lose the "fees" they paid but also end up with the original bill and late fees. Or in the case of student loan scams, some people will find out months or even years later that their student loans have not been forgiven.
The FTC notes that the Gen-Z are 25 percent more likely to report suffering a loss due to fraud than adults 40 and older, but they serve lower average losses than other age groups. Younger adults are more likely to suffer losses from online shopping fraud – purchasing items that were not delivered or advertised.
Adults aged 40 to 60
Heidi Schumacher, assistant fraud officer at Bell Bank Confidentiality Act, said this age group is often the target of tech support and romance scams. The FTC reported that victims lost $143 million to romance fraud in 2018, noting that this is higher than any other type of scam, with a reported average withdrawal loss of $2,600!
Romance scammers often target victims through social media or create fake profiles on dating sites and apps, often quickly expressing love and having excuses for not being able to meet someone in person – such as working on an oil rig, in the military, or as a doctor in an international organization. The FTC explains that they often ask for money to pay for airfare, travel expenses, or medical bills – usually through wire transfers or reloadable cards, or gift cards – giving them quick access to cash while remaining anonymous.
In a technical support scam, a fraudster calls, claiming to be a computer technician from a reputable company or your Internet service provider, saying that you have a virus or other malware on your computer. The caller may say that you must give him remote access to your computer or buy new software to fix the problem, and never give control of your computer or credit card information to someone who calls you by accident.
Another scam Heidi sees frequently is a loan scam where people think they are applying for a loan through an online lender and the only question they are asked is their bank username and password so they can deposit a check.
"The scammers will tell them to pick up the direct deposit, but they actually do it through mobile deposits," Heidi explains." For them, it's an easy way to deposit a counterfeit check into a customer's account, taking advantage of someone else – it's what they do. They're usually good at what they do."
Online Scams Targeting Baby Boomers and Generation X
Among the 40 to 75-year-olds whose desire for companionship is often exploited by scams, Catfishing is a unique scam that involves online dating and social media sites. Instead of stealing money directly, they trick victims into sending them money for free. Catfishing is one of the most lucrative scams out there. People will do anything for someone they love, and unscrupulous scammers will take advantage of that. On average, each catfish victim loses about $2600.
Online scammers will build attractive profiles and try to make friends with random people. Once you show interest, they will make you think they are falling in love. The scammer will then use that connection to ask for money. They may have a detailed reason, such as needing to fix a broken car before coming to visit you, which they use as an excuse to ask you to send them money. Once the catfish feel they have gotten all the money they can from the victim, they will disappear, leaving that person heartbroken and poorer.
To avoid phishing, it is important to research the people you meet online and avoid sending money to them. Catfish are so sophisticated that they can often fake a lifetime and last months or even years on their victims. Some signs that the person you are talking to is actually phishing include the following:
They refuse to meet in person or make video calls.
They seem to be too easy-going and never argue with you
When you do a reverse image search of their photos, you will find other personal information in their photos
They ask you to provide large sums of money for emergencies or transportation to meet with you
Their social media are empty and don't show much interaction with friends or family
After talking to you for a while, they're ready to say they're in love with you.
They have detailed stories to explain why they can't talk to you or meet you in person.
Older adults
A 2019 FTC report shows that young people are more likely to report suffering withdrawals of losses due to tech support scams, impostors, and prize, sweepstakes, and lottery scams. While adults aged 60 and older are less likely to report losses due to fraud, though the number of their losses are rising. Those aged 80 and older reported the most losses – an average of $1,700
In impostor fraud, scammers disguise as someone you may trust-usually a relative or government official (such as the IRS)-to trick you into sending them money or giving them your personal information, often creating an "emergency" situation that plays on your emotions and makes you think hard enough. For example, an IRS scammer may threaten to withhold Social Security payments. They may know enough personal information to make their claim seem reasonable, and the best way to do that is to call the person you think you're talking to at a number you know is theirs, and not send money until you hear from them. Most likely, they are not the ones calling
The FTC says prize, sweepstakes, and lottery scams are the most common consumer frauds, and these scams usually claim you have to pay a fee, tax, or duty to claim your prize – and they usually want payment via wire transfer or gift card. Keep in mind that if someone asks for payment in a wire transfer or using a gift card, you don't have to pay a fee to claim your prize, it's gotta be a scam – and if you don't enter sweepstakes or lottery, you're not likely to win.
Financial scams targeting the elderly
Scams targeting the elderly are moving away from stereotypical scams such as the "Nigerian Prince" scam. Instead, they are focusing on the daily necessities that almost all seniors need, and the National Council on Aging reports that both wealthy and low-income seniors are being targeted by a variety of healthcare scams.
One of the most common Medicare-related scams involves scammers posing as Medicare workers. They call seniors and claim to be officials who help enroll in Medicare. The scammers then collect personal information and use it to steal funds.
Another common online scam tactic is counterfeit drugs, with more seniors than ever buying medications online. Scammers often charge higher prices and then send useless or even harmful counterfeit products to seniors. Seniors may want to talk to their doctors to learn more about how to avoid scams related to healthcare.
How to protect yourself
There are some simple steps you can take to help avoid scammers and protect yourself from fraud:
Do not answer phone numbers or emails that you do not recognize.
Don't open links you don't expect – even if they come from people you know.
If the situation seems strange or "too good to be true", talk to someone you trust or contact your bank.
Use RealCall on your mobile to block all unwanted calls or texts with a few taps.