Charity scams are becoming increasingly common, leaving generous donors feeling frustrated and scammed out of their hard-earned money. It's important to remember that not all charities are legitimate, and some are simply out to take advantage of unsuspecting people. That's why it's essential to know how to spot a charity scam and protect yourself from it. We'll be exploring ways to identify and avoid charity scams so that you can donate your money confidently.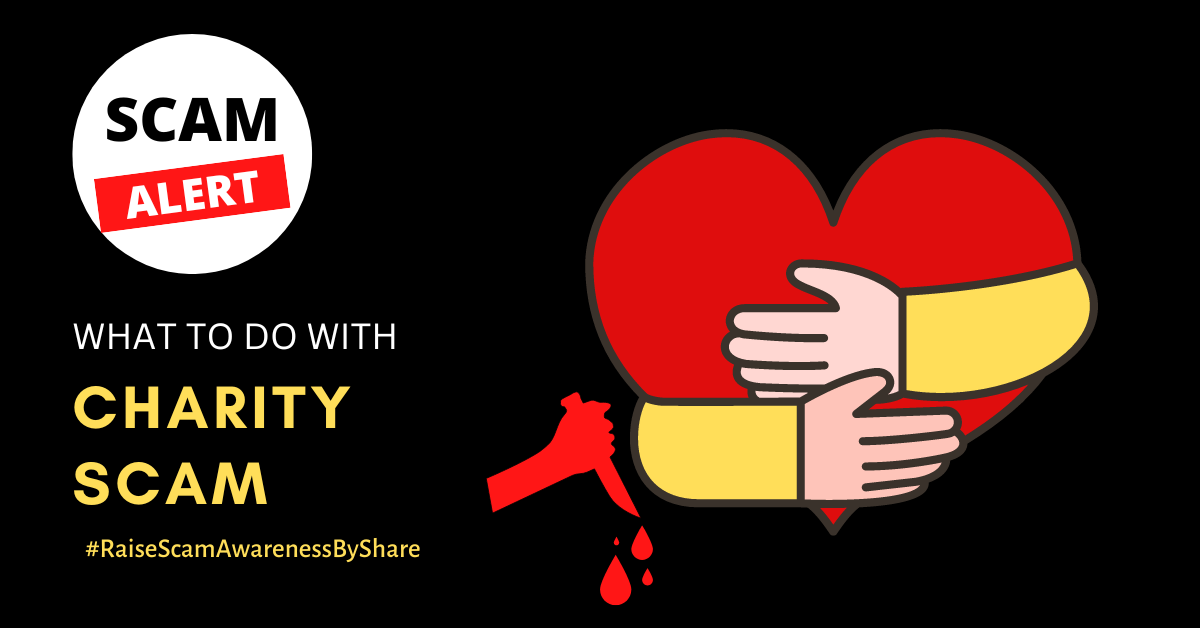 How Does a Charity Scam Work?
Charity scams are unfortunately becoming increasingly common and are used by criminals to take advantage of people's love driving them to help a good cause. A charity scam works by the scammer pretending to be from a legitimate charity or organization, typically using social media, email, text messages, or cold calls. The scammer will use manipulative language to try and persuade you to donate money. They may even use an official-looking logo to make it appear as though they are affiliated with a legitimate charity.
Scammers will use high-pressure tactics such as making urgent requests for donations and offering matching funds or claiming the donation is tax deductible when it is not. Sometimes they'll even offer prizes or special offers to entice people to donate.
Once they have the money, the scammers will disappear, taking the donations with them. The money can be used for personal gain or sent abroad, so it can be difficult for authorities to trace or recover it.
Common Call Types of Charity Scams
Charity scams come in many forms and can involve phone calls, emails, text messages, or even direct mail. The common denominator is that scammers try to prey on people's generosity by asking for money and other donations to help those in need. Common types of charity scam calls include:
• Calls from people claiming to represent a particular charity or cause.
These calls usually ask for money or donations and often sound quite convincing, as if they are from a legitimate organization.
• Calls from people claiming to be collecting funds for a specific person or family in need.
They may provide a story about how the individual or family is suffering, and then ask for donations.
• Calls from people claiming to be raising money for an "urgent" disaster relief fund.
Often these calls claim to be representing a reputable charity, and the caller will ask for money or donations to help with the relief effort.
• Calls from people asking for donations for research into a particular disease or illness.
If you ever receive a call asking for money or donations for any type of charity or cause, it's important to do your due diligence before handing over any cash. Be sure to verify the legitimacy of the organization and double-check the claims being made by the caller. Also, consider donating directly to the charity or organization rather than through a third-party collector.
How to Identify a Charity Scam
Charity scams are becoming increasingly common, and it can be hard to identify them. But it doesn't say there's nothing to do with them. Here are some tips to help you identify charity scams so that you can avoid falling victim to them by knowing them.
Try to dig for as much information as possible to know about a charity organization.
If you are contacted by someone claiming to represent a charity, ask for as much detail as possible about the organization. Request its name, address, contact information, and website if available. If the person is unable to provide this information, it's likely a scam.
Check credentials.
Legitimate charities should have clear credentials that are easily verifiable. Before donating any money, verify the charity's license to operate and whether it is registered with a national charity regulator.
Avoid high-pressure tactics.
A legitimate charity will not use high-pressure tactics to urge you to donate. If you feel like you are being pressured into making a donation, then it's likely a scam.
Research before giving.
Before donating to any charity, research the organization thoroughly. Check its website, mission statement, and activities to ensure it's a legitimate charity.
Don't give out personal information.
Never give out your personal or financial information to anyone claiming to represent a charity. This includes your credit card number, bank account details, or social security number.
Don't click on suspicious links.
Be wary of clicking on links in emails or text messages from unknown sources claiming to be from charities. If a link looks suspicious, don't open it as it could be malicious.
Trust your gut.
If something seems too good to be true or makes you feel uncomfortable, then it's likely a scam. That applies to all scams. If you're suspicious of an organization, don't hesitate to ask questions or report it to the relevant authorities.
How to Avoid Charity scam
Never give out personal or financial information in response to an unsolicited phone call, mail, or email.
Many charity scams involve requests for personal or financial information, such as your Social Security Number, credit card numbers, bank account numbers, or other sensitive information. Never give out any of this information to anyone you don't know.
Never pay for "free" services.
Charities should never ask for money upfront for free services, such as scholarships or grants. Be wary of organizations that offer free services in exchange for a fee.
Don't be fooled by clever websites and social media profiles.
Charity scammers can create clever websites and social media profiles that look like legitimate organizations. Before giving, do your research to make sure the organization is legitimate and trustworthy.
Make sure the charity is registered with the IRS and your state's charity office.
Legitimate charities must be registered with the IRS and your state's charity office. You can search the IRS Exempt Organizations Select Check tool to verify the charity's legitimacy.
Do not pay in cash or send gift cards.
If someone asks you to pay in cash or with gift cards, it's likely a scam. Paying in cash is untraceable, making it easier for scammers to take your money and disappear. Gift cards are also untraceable and can be used quickly by criminals.
Be skeptical of charities with names similar to well-known organizations.
Scammers may create charities with names that sound similar to well-known organizations, hoping to confuse donors into thinking they're donating to a reputable charity. Research any charity you're considering before you donate.
Contact the charity directly to make sure your donation will be used appropriately.
If you're not sure whether a charity is legitimate, contact the charity directly. You can find contact information on their website or in the Better Business Bureau's Wise Giving Alliance report. Ask how the money will be used and what percentage will go towards administrative costs or other expenses.
Watch for spoofed calls and texts and secure your devices with RealCall app.
If you get spam calls, use the RealCall app which also avoids offers that come through text or an unexpected email. Furthermore, users are also allowed to customize blocking items based on preferences and demands with top-rated identity theft protection and credit monitoring to keep your entire family safe.
Auto-block 99%+ of unwanted calls without taking extra time and effort;
Capable to block robocalls, scam calls, spam calls, telemarketing calls, and messages;
Accurate detection and smart blocking of SMS fraud;
Based on the continuously-upgraded number database;
Customize blocking tips to bypass important contacts from schools, hospitals, banks, etc.
What should be done if you've been unfortunately scammed?
If you believe you've been the victim of a charity scam, it's important to act quickly and take steps to protect yourself and your financial information. Here are some tips to follow if you've been scammed:
Contact the appropriate authorities.
It's important to notify law enforcement as soon as possible if you've been scammed. The Federal Trade Commission (FTC) is the best place to start – they have an online form where you can report scams and fraud. Additionally, contact your local law enforcement agencies and the state attorney general's office.
File a complaint with the BBB
You can also file a complaint with the Better Business Bureau (BBB). The BBB will investigate the charity scam and help inform others of the scam in order to prevent others from falling victim to it.
Report the scam to the charity itself.
If the scam involved a real charity, be sure to contact that organization directly to let them know what happened.
Protect your financial information.
Immediately cancel any credit cards, bank accounts, or other financial accounts that may have been used in the scam. Contact your financial institutions for advice on how to proceed.
Contact the IRS.
If you've donated money to a charity scam, be sure to contact the Internal Revenue Service (IRS). The IRS can help provide information on how to get your money back if applicable.
Take steps to protect yourself from further scams.
Monitor your credit reports for any suspicious activity, such as new accounts opened in your name. Also, be wary of any unsolicited emails or phone calls that involve offers of help with getting your money back – these could be scams as well.
Share your story.
One of the most effective ways to stop charity scams is by sharing your experience with friends and family. That way, they can learn from your mistake and hopefully avoid becoming a victim of a similar scam in the future.
By taking action quickly and following these steps, you can help protect yourself from charity scams and recover from any losses incurred from the scam.