Social Security scams are on the rise and they can be incredibly damaging if you fall victim to one. Scammers are getting smarter and more sophisticated, so it's important to be vigilant and know how to protect yourself. In this blog, we'll explore the different types of Social Security scams, provide tips to help you identify them, and share strategies to avoid falling prey to these schemes. Don't let yourself become a victim – read on to learn how to stay safe!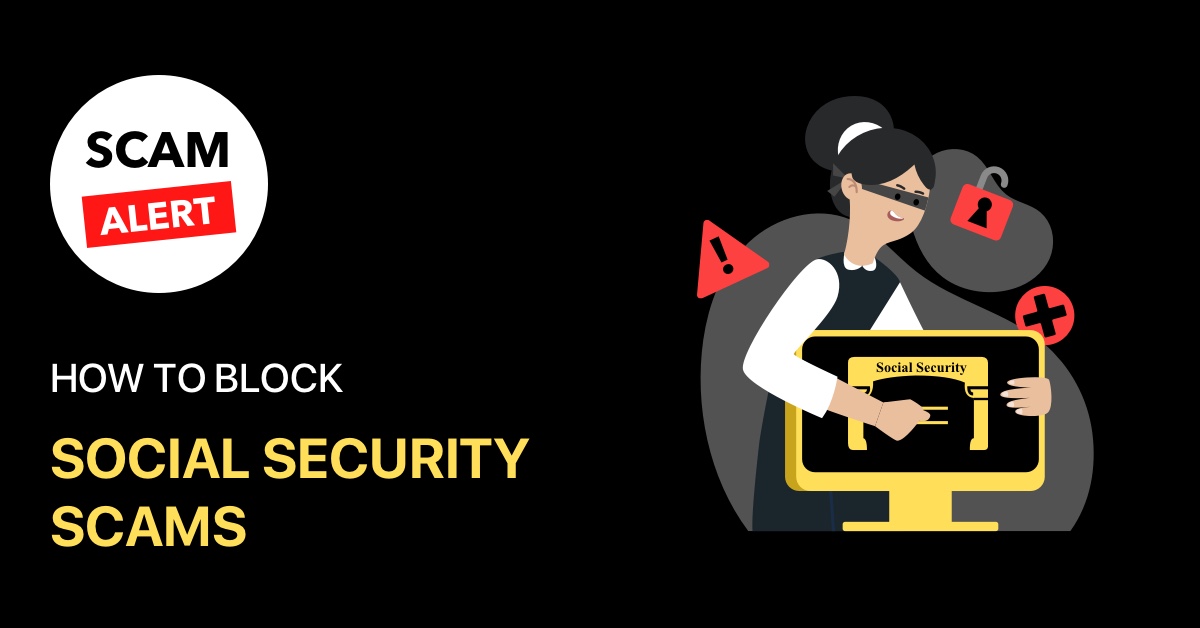 What is a Social Security Scam?
A Social Security scam is a type of fraud that targets people who receive Social Security benefits. The scammer attempts to get personal information and/or money from the victim by posing as an official from the Social Security Administration (SSA). This can be done through phone calls, email, text messages, or even in-person visits. The scammers may offer financial assistance, incentives, or other services in exchange for personal information and/or money. In many cases, the victims are not aware that they are being scammed until it is too late. It is important to be aware of how to recognize and avoid these scams in order to protect yourself and your Social Security benefits.
What are Social Security Scammers Targeting?
Social Security scammers are targeting unsuspecting individuals with the promise of obtaining Social Security benefits or a larger return on their investment. They often claim to be affiliated with the Social Security Administration or other government agencies and attempt to convince people to provide them with personal information, such as Social Security numbers, date of birth, banking information, and more. They will then use this information to access accounts and commit identity theft.
The scammers often claim that there is an issue with your account, such as a lost benefit, or that you are eligible for additional benefits. They may also claim that you need to pay a fee in order to access these benefits or offer to increase your benefits for a fee. These are all signs of a scam and should be avoided at all costs.
Scammers may also call or email you, claiming to be from the Social Security Administration or other government agencies. They will attempt to convince you to provide personal information in exchange for a "reward" or benefits. In some cases, they may ask you to send money or purchase gift cards. Again, these are all scams and should be avoided.
It's important to remember that the Social Security Administration does not call or email individuals unsolicited and does not request payment for any services. If you receive such a call or email, do not respond and report it immediately to the Federal Trade Commission (FTC) at 1-877-FTC-HELP (1-877-382-4357).
Signs of a Social Security Scam
Social security scams are on the rise, and it's important to recognize when you may be targeted. Here are some signs that indicate you could be a potential target of a Social Security scam:
Unsolicited Contact
Be wary of any unsolicited contact you receive. This includes emails, texts, phone calls, or any other form of contact where someone is asking for personal information like your Social Security number.
Immediate Payment Demands
If someone asks for immediate payment in order to avoid legal action, this could be a sign of a Social Security scam. Legitimate organizations will never ask you to make immediate payments or threaten legal action in order to receive their services.
Pressure Tactics
Scammers will often try to pressure you into giving out personal information or taking action by using fear tactics. If someone is pressuring you to give out personal information or act quickly, it is likely a scam.
Unusual Requests
If someone is asking for your Social Security number or other sensitive information for reasons that don't seem quite right, it is likely a scam. Legitimate organizations will rarely ask for this type of information.
False Promises
If someone is making promises about the outcome of a Social Security case that seem too good to be true, then it probably is. Legitimate organizations will never guarantee results in a Social Security case, so be aware of any false promises you may hear.
By staying alert and being aware of these signs, you can avoid becoming a victim of a Social Security scam.
How to Avoid Social Security Scams?
Social security scams are a growing problem, with scammers preying on vulnerable individuals for their personal information and hard-earned money. Fortunately, there are several steps you can take to protect yourself and avoid becoming a victim of a social security scam.
Never give out your Social Security number or other personal information over the phone or online unless you are certain that you know and trust the person or organization. Be especially suspicious of unsolicited emails, calls, text messages, or social media posts that appear to come from a government agency or another reputable organization.
Be cautious of offers to help you get government benefits in exchange for money, whether through a fee, loan, or gift card. While some third parties may legitimately help you apply for certain benefits, be wary of any offer to help you get your benefits more quickly or increase your benefits in exchange for a fee.
If you receive an email, text message, phone call, or social media post claiming to be from the Social Security Administration or related agencies, do not click on any links or respond directly. Instead, contact the SSA directly at 1-800-772-1213.
Consider investing in an all-in-one digital security solution. RealCall app is capable of smartly blocking spam calls and text messages behind your smartphone based on a database. Furthermore, users are also allowed to customize blocking items based on preferences and demands with top-rated identity theft protection and credit monitoring to keep your entire family safe.
Regularly review your financial accounts and credit reports. Check to ensure that all charges and payments are legitimate and that no suspicious activity has taken place. It's also a good idea to set up fraud alerts and credit freezes with the three major credit bureaus (Equifax, Experian, and TransUnion) so that you can better monitor any suspicious activity.
By following these steps and being vigilant about your personal information, you can help protect yourself from social security scams and other forms of fraud.