Group text scams are on the rise, and if you're not careful, you could be the next victim. The scammers send out fake messages, usually impersonating a legitimate service or company, with a link to a malicious website that can steal your personal information or install malware on your phone. Fortunately, there are steps you can take to protect yourself and your phone from these scams. In this blog, we'll look at what a group text scam is, how to identify it, and how to block it.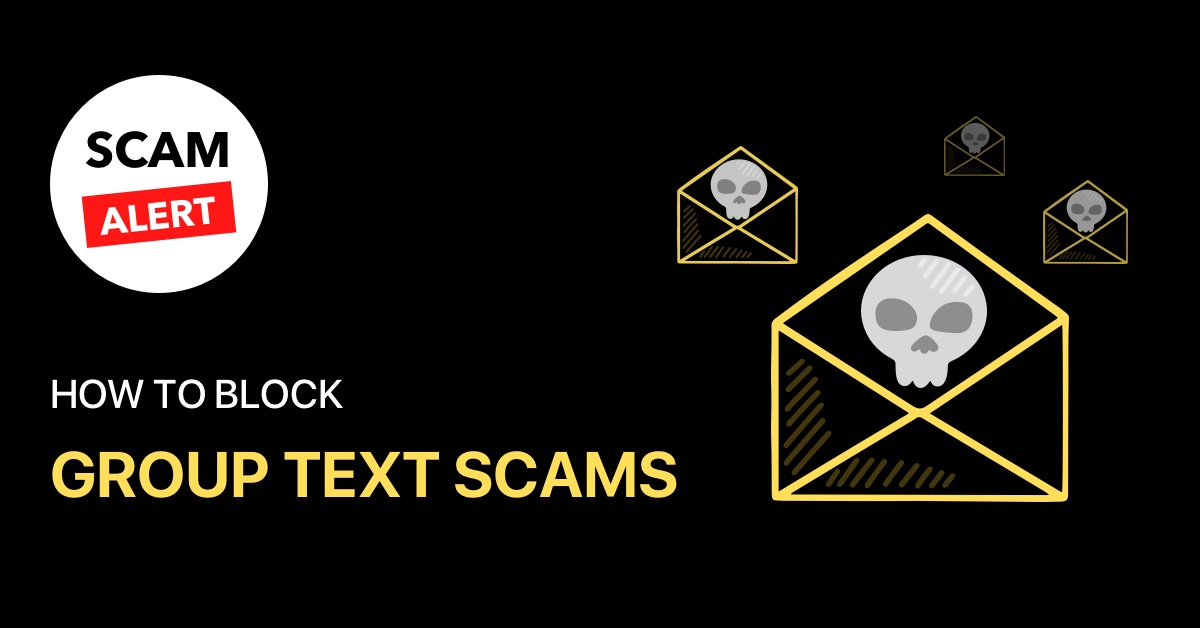 What is a Group Text Scam?
Group text scams are malicious messages that are sent to large numbers of people at once in an attempt to gain access to their personal information or bank accounts. These group texts often referred to as "smishing" ("SMS phishing"), are sent via SMS or text messaging and can appear to come from a legitimate company or person. The messages usually contain a link or attachment which directs the recipient to a fraudulent website where their information can be stolen. They may also include a call to action such as clicking on a link, providing personal information, or making a payment. Group text scams are becoming increasingly prevalent and can be difficult to spot.
Why do Spammers Favor Texts over Calls?
Spammers tend to prefer texting over calls due to its cost efficiency, effectiveness, and convenience. Texts are much cheaper than making a phone call since they don't require a large amount of bandwidth to send. Additionally, texts can be sent in bulk more quickly and easily than making multiple phone calls. Moreover, sending a text eliminates the risk of being identified by caller ID or having to speak with someone directly. All these factors make it very attractive for spammers to use text messages for their scamming activities.
Texts are also much more effective than phone calls because the message can reach a much larger audience. Texts have higher open rates compared to emails and other forms of communication, so it's easier for scammers to spread their messages quickly. Plus, texts can be sent anonymously, which makes it even harder for people to trace the source.
Finally, texts are much more convenient for scammers because they don't need to worry about reaching a live person. Texts can be sent any time of the day and night without any worry that someone will answer. This allows them to maximize the number of people they can reach in a short amount of time.
How to Spot a Group Text Scam?
Group text scams are becoming increasingly common, so it's important to know how to spot one in order to protect yourself. One of the most common signs of a group text scam is if you receive a text from an unknown number asking you to join a "group" with a lot of people. This is usually a scammer's attempt to get your phone number and start sending you spam messages.
Another sign of a group text scam is if the text contains a link that promises something like "free money" or "free prizes." These are usually links to malicious websites that are designed to steal your personal information.
Finally, if you receive a text from an unknown number with a message that seems too good to be true, it's likely a scam. Be especially wary of messages that promise free products, free services, or easy money.
If you ever receive a group text message that seems suspicious, do not click on any links or respond to the message. Instead, delete it immediately and consider reporting it to your wireless provider.
Five Ways to Stop Group Spam Texts
Don't respond to suspicious texts: If you receive a text that appears to be a scam, do not respond to it. Responding to the text will likely only result in more spam messages.
Block suspicious numbers: To protect yourself from receiving any further messages from the same sender, you can block them on your phone by either manually entering the number or going into your settings and blocking the contact.
On iPhone:
Access the conversation and tap the cluster of bubbles and/or icons at the top of the screen
Tap "(X) People" to reveal the list of participants
Tap the number you want to block
Tap "Block this Caller" at the bottom of the screen
On Android:
Open the Messages app to access the conversation, and tap the three-dot menu in the upper right to view a drop-down menu
Tap "Details" in the menu
Tap "Block & report spam" to see a pop-up that you can optionally check to both block and report the number
Tap "OK" to confirm the blocking of the sender
Use an anti-spam app: Anti-spam app RealCall can help to filter out malicious text messages before they even reach you. These programs are designed to detect potential spam messages and block them before they reach you.
Do not click on links: If you receive a text containing a link, don't click on it. This could be a phishing attack and will likely lead to further spam messages or malicious software being installed on your device.
Report the text message: If you believe that a text message is a scam or phishing attack, report it to your phone service provider or local law enforcement agency. They may be able to track down the sender and take action against them.
Why RealCall is the Answer
This is how RealCall works on your phone: OpenAI + RealCall Blocklist.
Simply put, the more you use RealCall, the less risk you'll receive spam or scam calls.
Between You and Scammers is RealCall AI as a One-to-One Mobile Communication Guardian.
Powered by OpenAI, the leading AI research and deployment company, RealCall AI is capable of automatically dealing with all risky and unwanted texts behind the screen. Based on the AI language model, ChatGPT 4 can analyze and process language input to identify patterns, sentiments, and intent and sense the trivial malicious intent hidden in the text message ordinary people fail to notice. Plus, with the continuously updated risky number database developed by RealCall team and long-term users' reports, RealCall AI is capable of accurately and quickly identifying scam-likely texts and dealing with them in users' personalized ways.
Instead of blocking alone, RealCall AI is capable of letting pass all the important and necessary text messages that really belong to users' demands like those from real hospitals, banks, etc. Between you and scammers is RealCall AI as a one-to-one mobile communication guardian.