Have you ever been bothered by those pesky calls and messages from strange numbers? Those annoying calls & messages from strange numbers are something no one likes. If you are one of those users who have encountered a similar issue, then it's time you should install a caller ID app. These smart apps help you track caller details, block spam calls and messages, manage phone contacts, and more.
Truecaller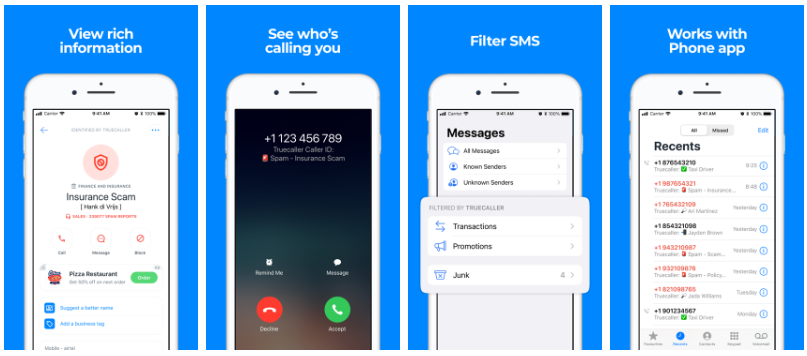 As one of the most popular dialer replacements and free caller ID apps on the market, Truecaller was first launched in 2009 for Blackberry phones. Soon after its success, the app released an Android version. It is one of the most used caller ID apps in India and has a user base of more than 150 million. Truecaller can be dubbed as the best caller ID app as it is backed by a large spam list created with the help of 200 million users across the globe. The app can identify almost any number with appropriate information to let the user know who is calling them.
Features
Truecaller allows all users to record incoming and outgoing calls, and it is the recording quality is smooth. If Truecaller is your default contacts app, it will feel seamless.
Back-Up Your Contacts and Call Lists
Truecaller now has its own backup feature to store everything about your contact book by setting up automatic backups on your phone.
Integrate with Other Apps
Truecaller isn't about making you use only Truecaller features. It also acts as a gateway to other apps. Truecaller integrates with your device's Phone and Message apps, so you can use both of them in Truecaller without having to close it.
Look Up Numbers with Your Camera
Truecaller also supports the feature of camera lookup. When you come across any number, whether on a piece of paper or a giant sign somewhere, simply open the Truecaller app and tap the QR scan symbol at the edge of the Search bar to get more information about a number.
Truecaller also sends call alerts that notify you of an incoming call even before your phone rings. A Truecaller popup appears on your phone seconds before the call drops, stating the name of the caller.
Rating
Google Play Store: 4.5/5
App Store: 4.5/5
How Free?
The premium price starts from $2.99 per month.
Pros
Call and text blocking
Dialer replacement
Easy to configure
High caller identification accuracy.
Cons
Security issues encountered by a lot of users
The caller's information displayed by the app is can be wrong sometimes
The caller ID feature needs to be focused on instead of developing features
Hiya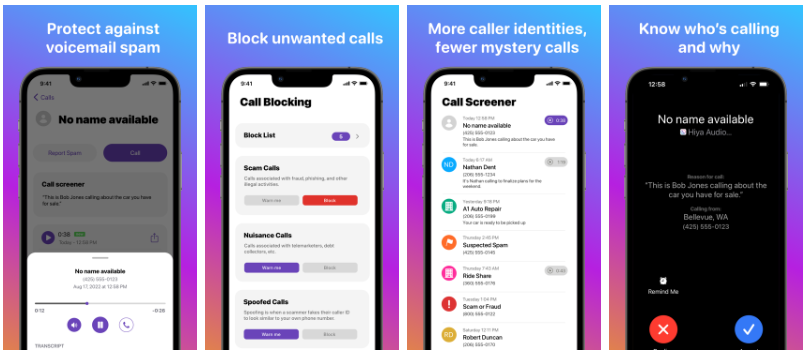 Hiya offers a call blocking app for iOS and Android phones. The app uses a database of known spam numbers to automatically block unwanted calls. Additionally, it also allows users to create their own list of numbers to block. Hiya also offers VoIP services for businesses, carriers, and tech resellers, and is available in over 40 countries, serving over 200 million users. The company has partnerships with major companies such as Samsung and AT&T.
Features
Hiya lets you register and correct your business information in the Hiya database. The tool also enables you to report inaccurate or offensive comments listed under your phone number.
This optional feature blocks unknown phone numbers and sends the callers a text message asking them to identify themselves.
Hiya is a spam blocker app on this list with language preferences on its website and the iOS Hiya app download page. Supported languages include English, French, German, Italian, Portuguese, and Spanish.
Rating
Google Play Store: 4.2/5
App Store: 4.5/5
How Free?
Free: No charge for spam alerts and fraud detection
Monthly: $2.99 to $3.99 per month for automatic call blocking
Yearly: $24.99 per year for automatic call blocking
Free trial: 7 days
Pros
The free version is also ad-free
Manage your business caller ID information
Paid versions update the spam database three times per day
Cons
The free version doesn't automatically block calls or provide the caller's name
Doesn't block spam text messages
The website doesn't have a pricing page with subscription details
Mr. Number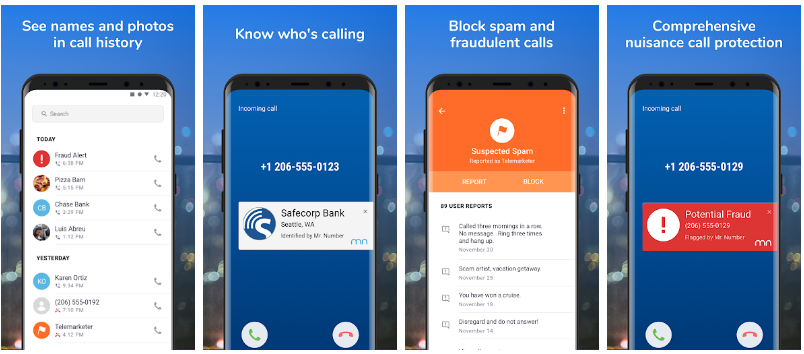 Mr. Number is one of the best caller ID apps for Android and iOS users. Users can block unwanted messages, fraud, and spam calls. Mr. Number also provides the identity of the unknown incoming calls. The app blocks all scam calls and spam messages on the basis of numbers reported by the users. The app can block calls from one person, area code, or country. Mr. Number also looks up recent calls in the user's phone history to suggest if the number should be blocked.
Features
Put names to numbers when dialing out
Block calls from one person, area code, or an entire country
Stop telemarketers and debt collectors before they waste your time
Intercept calls from private/unknown numbers and sends them to voicemail
Report spam calls to warn other users
Automatic caller lookup for recent calls in your phone's history so you'll know who to block
Rating
Google Play Store: 3.1/5
App Store: 4.6/5
How Free?
The pricing for Mr. Number starts from zero. However, the premium features are available for 2.99 USD monthly from the bottom.
Pros
Blocks texts and SMS messages.
Many different ways to block numbers.
Allows exceptions.
Reverse number lookup.
Enhanced caller ID information.
Cons
The free version is less efficient
Automatically rejects regular calls too
The paid version of the app is disappointing as it offers only call blocking in the paid version too
Showcaller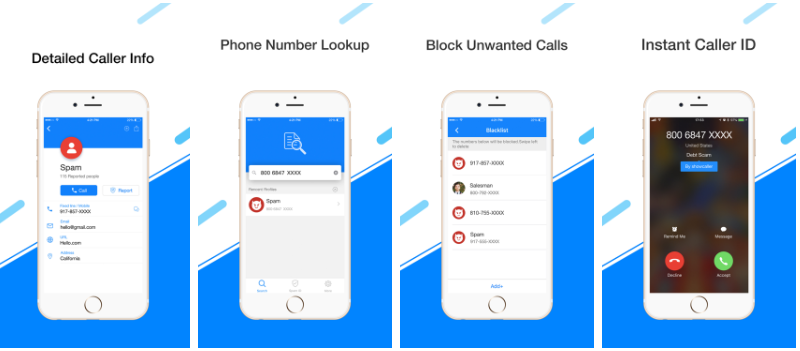 This app is available for both iOS and Android and offers a large database of numbers, allowing users to identify unknown numbers and block unwanted calls.
Features
Offers a large database of numbers, allowing users to identify unknown numbers and avoid unwanted calls
Block calls and texts from known spammers or unwanted callers
Automatic spam alerts
Automatic Call Recorder (ACR)
Reverse Phone lookup
Offline Database
Rating
Google Play Store: 4.4/5
App Store: 3.6/5
How Free?
Free with in-app purchases
Pros
Offline Database

Smaller size
Cons
Its

database

may be smaller than other caller ID apps on the market
Whoscall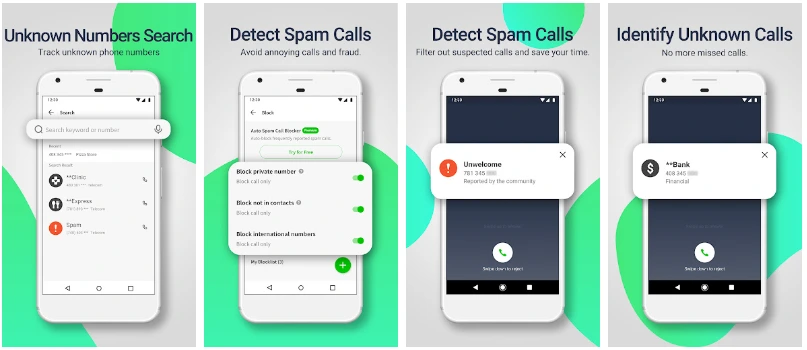 With more than 70 million global downloads, Whoscall has a database of more than 1 billion spam and scam calls. The caller ID app comes with a built-in dialer and a conversation page. The number can be identified on the app without the internet as the app has an offline database. Whoscall has a user-friendly interface and has all the features, including answering, rejecting, and putting the call on speaker.
Features
You can identify and block spam calls.
It supports an all-in-one Whoscall Call Interface to make call tracking easy for you.
You can chat with anyone on the Whoscall conversation page.
It supports offline database extension.
Rating
Google Play Store: 3.8/5
App Store: 4.6/5
How Free?
Free, contains ads and offers in-app purchases.
Pros
Massive database of numbers
It supports an offline database to help you track numbers even offline.
Cons
It only displays numbers at the time of call, which makes it difficult for the user to identify who is calling
No updates for the basic version; users need to buy the pro version of the app for the same
Regular messages and spam messages are in the same folder, which creates confusion
CallApp

This app is available for Android. It is not available for iPhone or other iOS devices. It offers a large database of numbers, allowing users to identify unknown numbers, block unwanted calls, and even record calls.
Features
A large database of phone numbers, allowing users to identify unknown numbers and avoid unwanted calls
Block unwanted calls and texts from specific numbers or groups of numbers.
Automatic call recording (ACR).
Automatically organizes calls and messages, making it easy to find important information.
Automatically blocks spam calls and texts.
Set reminders for important calls you don't want to miss.
Rating
How Free?
Free, contains ads. In addition, a Pro-version is available for users who prefer to purchase a premium version of the app which is free of ads.
Pros
Large database of numbers
Allows users to record calls for later reference
Set reminders for important calls you don't want to miss
Cons
Contains ads, which can be annoying to some users
The recording function sometimes does not work well
No offline database, requires internet connection to identify caller ID
RealCall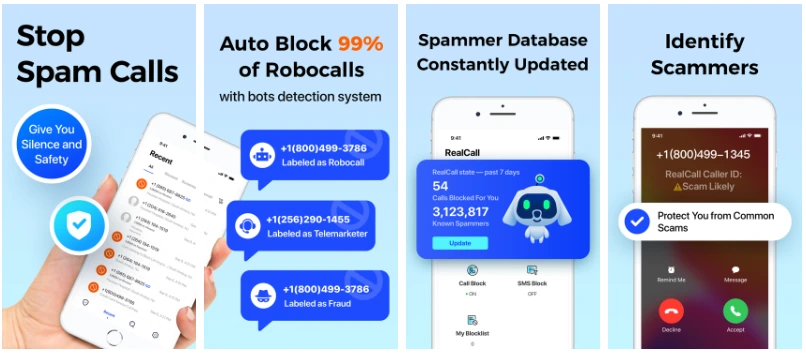 This is not just an app for identifying the caller's ID, it can become your ultimate manager of all the calls. You will see how managing all of that will become easier with this app. Starting with the fact that the app will always detect the ID of the incoming call, ending with the block of unwanted numbers.
Features
The blocklist supports real-time updates, collecting millions of detected spam numbers and assisting you to block calls with an accuracy of up to 99%; important robocalls, like doctor appointments and school closings, are able to get through based on the Yellow Pages.
AI Models help stay ahead of scammers before answering unknown calls with Scam Block technologies identifying; helps you get revenge on all robocalls you don't want to see anymore; automatically sends it to voicemail when you miss a call.
Custom blocking rules including specific keywords & numbers, number series; Fraud Awareness Building, with RealCall prevention and education and case studies
RealCall offers a rich and authentic database for you to see who it is; get more tips & tricks on the Fraud Prevention Academy. Learn how to stop spam calls and texts from reaching your smartphone.
Rating
Google Play Store: 4.5/5
App Store: 4.5/5
How Free?
RealCall is a free service, in principle. But the free version doesn't include spam call blocking, so you need to upgrade to its Premium package if that's your priority. That will cost you 1.49 USD monthly.
Pros
Interactive contact's image support feature makes it one of the best apps.
It supports even old Android versions.
Cons
Spam call detection feature could be improved