Restaurant businesses have become increasingly vulnerable to phone scams in recent months. Scammers often target unsuspecting business owners with fraudulent offers or threats. It is important to be aware of these scams and the various tactics they use in order to protect yourself and your business. In this blog, we will discuss the different types of phone scams that target restaurant businesses, how to recognize them, and the steps you can take to protect yourself.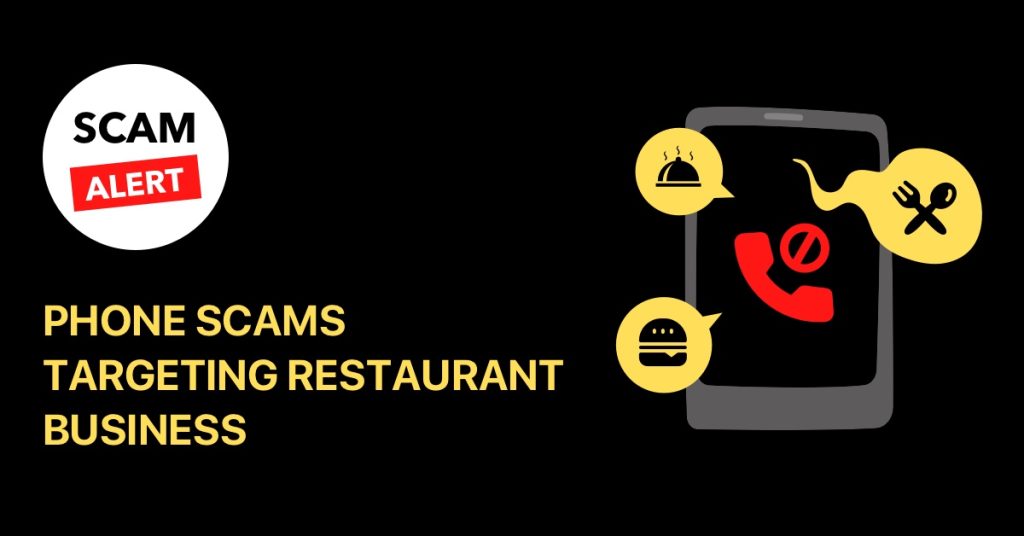 The Restaurant Business is a Target for Scammers
With the growth of the restaurant industry in recent years, it has become an attractive target for scammers. Restaurants are especially vulnerable because they are often busy and rely heavily on customer service to keep their business going. Unfortunately, scammers have found ways to exploit this and take advantage of unsuspecting restaurants.
Scammers target restaurants for a variety of reasons, including collecting sensitive customer information, fraudulent billing practices, and the sale of fake products. These scams can have a devastating impact on businesses, as they often result in lost time, money, and customer trust. It's important for restaurant owners to be aware of these scams and take steps to protect their businesses. Educating staff about potential scams, regularly checking invoices and payments for accuracy, and implementing security measures such as two-factor authentication can all help keep scammers at bay.
How does the Scam Work?
Phone scams targeting restaurant businesses are often initiated with a call from someone claiming to be from a government agency such as the IRS, the FDA, or a health department. The caller may tell the restaurant that they are conducting an audit, or that there is a problem with their food safety regulations. The scammer may demand payment for a fine or inspection fee, usually in the form of a prepaid debit card. They may also threaten legal action if the fee isn't paid immediately.
The scammer will often ask for sensitive information such as credit card numbers or bank account numbers. They may also try to gain access to the restaurant's computers by downloading malicious software. The scammer may even ask the restaurant owner to purchase gift cards or wire money as payment.
These scammers are very convincing and can be hard to spot. It is important to remember that no government agency will ever ask you to pay fines or fees over the phone.
Types of Phone Scams Targeting Restaurant Businesses
Imposter Scams
In this type of scam, an imposter calls the restaurant pretending to be a representative of a well-known company or organization. The imposter then requests payment for services or products that were never ordered.
Phishing Scams
A phishing scam occurs when a caller sends a link or asks the restaurant to provide personal information such as account numbers, passwords, or credit card numbers.
Overpayment Scams
An overpayment scam occurs when a restaurant receives a payment for an order that is much higher than the amount due. The customer then requests a refund for the overpayment, usually via wire transfer.
Order Placement Scams
In this type of scam, an individual calls a restaurant claiming to have placed an order, and then claims to have never received it. The caller then requests a full refund.
Invoice Scams
Invoice scams occur when a customer calls and requests an invoice for an order that was never placed. The caller then requests that the restaurant pay for the invoice, even though no goods or services were exchanged.
Health Department Scams
1) Several restaurants have received telephone calls from a person claiming to be a "health inspector from the US Department of Health" introducing a new procedure for arranging a health inspection.
2) The New Mexico Environmental Health Division has reported to AG Gary King's Consumer Protection Division that the latest version of the "Health Inspector" scam is making its way into restaurants statewide.
Service Call Scam
Someone calls and tells you it's time for your annual, semi-annual, or whatever checkup on some equipment like fire extinguishers. You have it done only to realize it's not your supplier but your supplier's competitor at a higher rate. By then it is too late. Be sure you know and verify all persons working in your restaurant and providing services to your business.
By being aware of these types of phone scams targeting restaurant businesses, owners and staff can protect their businesses from falling victim to scammers. Always remember to verify any order before sending money or goods and be on the lookout for suspicious activity.
How to Identify Phone Scams Targeting Restaurant Businesses
Phone scams targeting restaurant businesses can be difficult to identify, as scammers often use clever tactics to try and trick you. However, there are some key signs to look out for that can help you recognize a scam.
One of the most common tactics used by scammers is claiming to represent a legitimate business or government agency. They might say they are from the tax department or call on behalf of a popular delivery service or payment processor. They'll often use convincing language to make it sound like they really do represent the company they claim to.
Another way to identify a potential scam is by asking questions. For example, a legitimate company or agency would likely have detailed information about your account, such as your contact information or the last time you interacted with them. If the person on the other end of the line does not have this information, it's a sign that you might be dealing with a scammer.
In addition, scammers often use high-pressure tactics to try and get you to act quickly. They might ask you to provide sensitive information or make a payment immediately. These requests should be treated with caution, as they could be signs of a scam.
Finally, you should also pay close attention to any payment instructions you receive. Scammers will sometimes provide instructions to make a payment through an untraceable method, such as wiring money or using a pre-paid debit card. This is another red flag that you might be dealing with a scammer.
By being aware of these signs, you can better protect yourself and your business from phone scams targeting restaurant businesses.
How to Avoid Phone Scams Targeting Restaurant Businesses
Scammers will often attempt to take advantage of unsuspecting restaurant businesses by convincing them to provide personal or financial information. To avoid becoming a victim of such a scam, it's important to be aware of the following:
By following these steps, you can greatly reduce the chances of your restaurant business falling victim to a phone scam. Be sure to take all necessary measures to protect your business and employees from fraudulent activity.
What to do if you think your restaurant has been scammed
Contact your local law enforcement agency and report the incident. Be sure to provide as much detail as possible regarding the scam and any information you have on the scammer. Additionally, alert your bank and credit card companies and inform them of the incident.
Review your accounts for any suspicious activity or unauthorized charges. Make sure you keep all documentation related to the scam, including any emails, voicemails, or other forms of communication from the scammer.
Inform your employees about the scam and provide additional training on how to identify potential phone scams targeting restaurants. It's also a good idea to remind your staff to never give out financial information over the phone and always use caution when dealing with unknown callers.
Bottom Line
Phone scams targeting restaurant businesses are a serious threat to the industry. By being aware of the tactics scammers use, restaurants can protect themselves and their customers from becoming victims. The best way to avoid becoming a target is to be vigilant in recognizing potential scams and taking action to protect yourself and your business. Additionally, ensuring your employees are trained in how to recognize and handle potential phone scams can go a long way in protecting your restaurant from falling victim to these malicious actors. Be sure to have written procedures and policies in place that your staff can follow if they encounter a suspicious caller. This could include providing customer service scripts that clearly outline what information an employee should collect from a caller, such as a name, address, telephone number, and company name. You should also maintain up-to-date records of all calls received at the restaurant and document any attempts at fraud or extortion that occur.