Every year, utility scams trick thousands of Americans out of their hard-earned money. They run utility scams to take advantage of customers looking for ways to save on their energy and to scare and exploit those who are unsure of the details of their energy contracts. Reports that range from a woman in New York who lost $2,100 to businesses that have lost up to $15,000 emphasize that everyone is a target.
These con artists employ a variety of strategies and scare tactics to convince people to pay them or give away sensitive information. The best way to protect yourself against utility scams is to learn and understand these strategies.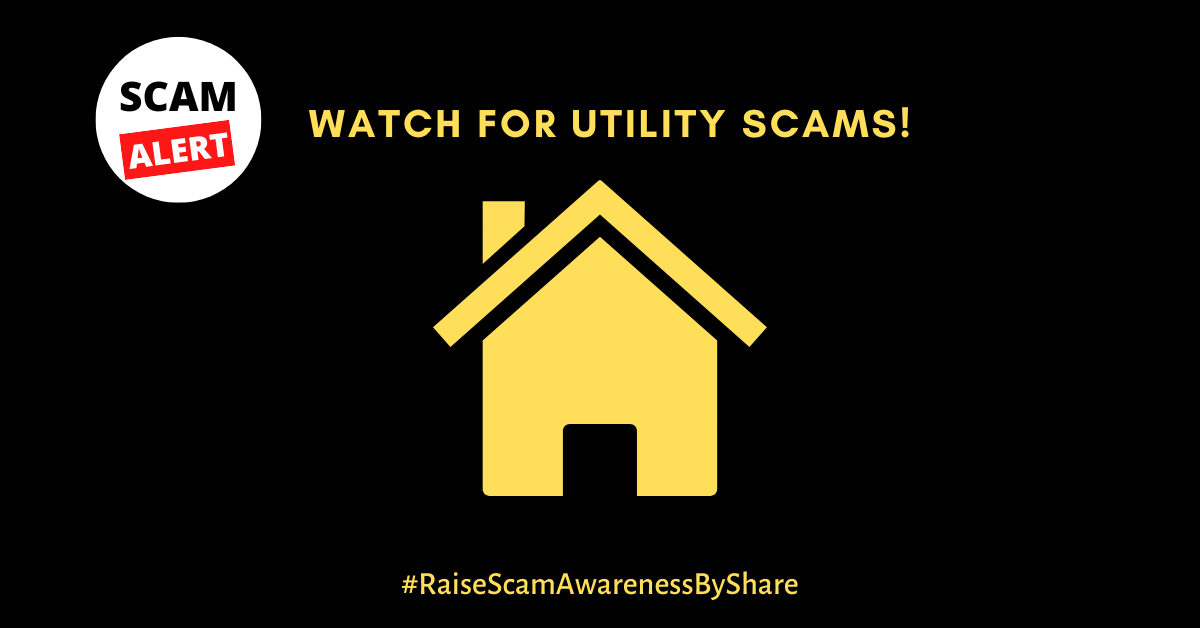 How Utility Scams Work
Someone calls claiming to be from your gas, water, or electric company. They say your service will be cut off if you don't pay them immediately. This is a scam. Real utility companies don't do this. But these scammers want to scare you into paying before you have time to confirm what they're telling you.
The caller goes on, telling you to pay by wiring money through a company like Western Union or MoneyGram, giving the caller the numbers of a reloadable card or gift card, or paying them with cryptocurrency. Scammers tell you to pay this way because it's hard to track that money, and almost impossible to get it back.
Warning Signs
An unscheduled or unsolicited call or visit from someone claiming to represent your power or water company.
Threats to cut off service unless an overdue bill or maintenance cost is paid immediately.
A demand for payment by wire transfer, cryptocurrency, gift card, or cash-reload card — scammers' favored methods.
Payments on the credit card or bank statements for utility accounts you did not open.
Who is at Risk of Being Scammed?
Older adults are often depicted as the typical scam victims, but the Better Business Bureau found that nearly 70% of those who were scammed are under the age of 45, and almost 80% held college degrees. Anyone can be vulnerable to being scammed; it's not just gullible or trusting. Successful fraudsters are usually experts at manipulation.
To avoid being taken advantage of, know the basic details about your energy bill—your energy provider, the type and length of your plan, and what services you pay for. Make sure your partner or spouse knows these basic details, so they won't fall victim to these schemes either. Fraudsters typically don't have access to much of your personal information. They could have found your name, address, and phone number from public records or information available on your social media accounts or employer's website.
The Most Common Utility Scam: The Imposter Scam
A utility imposter scam involves a person pretending to be from your utility provider to get sensitive information from you. They often start by telling you that you're behind on your bill or that you need to pay for some electricity service they performed at your property. Then, they will tell you that failure to pay this bill will result in your power being cut off. Imposter scams come in many forms, including over the phone, in person, and through email.
Imposter Scam: Phone
A utility imposter scam through the phone usually goes like this:
You receive a call from what looks like your local utility company (scammers use a technique called spoofing so your Caller ID recognizes it as a call from your utility)
The scammer says they work for your local utility company
The scammer says that you're overdue on your electricity bills
The scammer says your service will be cut off if you don't pay them immediately
Utility scammers can be very convincing, often using scare tactics to get you to pay. They will say things like "the trucks are on their way to shut off your electricity right now". Sometimes they will call when you need your A/C or heat the most in order to make the idea of your service being cut off even more painful.
Imposter Scam: In-Person
Sometimes a person will come up to your door pretending to be a worker for your utility company. They will say that you're behind on your bill, or they will "inspect" your home and say they need payment for something they fixed. Basically, they will use similar methods to scammers who call on the phone to try and take your money.
Imposter Scam: Email
The last type of imposter scam is through email. Like the two methods outlined above, this is a fake email that looks like it's sent from your utility company. It often states that your bill is overdue, that there's something wrong with your account, or that your bill info is out of date.
From there, the imposter will usually ask you to follow a link and enter sensitive information like your credit card. They may even try to get you to download a piece of malware that can steal that info through your computer.
This is called phishing, and it's not a scam solely dedicated to the utility industry. There are a few ways that you can spot phishing scams, but the easiest way to avoid utility phishing scams is by following the next step.
Door-To-Door Energy Provider Scams
States that have Energy Choice allow you to switch electricity providers to save on your bill. Many of these competing electricity providers have sales teams that go door-to-door selling their services.
Unfortunately, some of these salespeople try to scam people to sell electricity plans and increase their commission. States have cracked down on this, so it's not as prevalent as it used to be, but it's still something to be aware of. Here are some of the common methods these nefarious salespeople use:
Slamming – This is when a salesperson switches your energy provider without your consent. They do this by asking for or finding your utility bill and copying down your utility number. With this info, they can switch your energy provider.
Saying That You Must Switch – Some salespeople lie and say that you must switch providers. This is never the case. Texas and Georgia are the only states where you must pick an energy provider, and even then, you won't be forced to go with one provider over another.
Dishonest about a Plan – A sales rep may tell you that you will save if you switch providers, but is actually selling you a plan that costs substantially more.
Other Varieties of Utility Con
A fake utility worker might also seek payment up front to replace or repair a meter or other device or solicit personal information in the name of signing you up for a government program that reduces energy bills. There are several other varieties of utility con:
Rather than claiming you owe money, scam callers might say you've overpaid and ask for bank account or credit card information to make a "refund."
Scammers pretending to be utility workers show up at your home to inspect or repair equipment, investigate a supposed gas leak or do a free "audit" for energy efficiency. They may try to charge you for the phony service, sell you unnecessary products, collect personal information for use in identity theft or simply gain entry to steal valuables.
Utility impostors send out phishing emails or "smishing" text messages aimed at convincing you to make a payment or supply personal or financial data to sort out a service issue.
Identity thieves use stolen personal information to open utility accounts and run up charges in the victim's name. The Federal Trade Commission (FTC) received more than 31,000 reports of utility-related identity theft in 2019.
How to Protect Yourself from This Scam
Do call the utility, at the customer service number listed on your bill, to find out if you're behind on a payment or if they have tried to contact you. Do not use a call-back number provided by an unknown caller.
Watch for spoofed calls and secure your devices with the RealCall app. If you get spam calls, use the RealCall app which also avoids offers that come through text or an unexpected email based on a strong number database and continuous iteration of blocking rules.
Do ask questions of anyone calling you or coming to your door on supposed utility business — for example, their employee identification number, or the date and amount of your most recent payment.
Do notify the utility if you've been approached by an impostor.
Do notify neighbors if there's a suspected scammer making the rounds in the area.
Don't provide personal or financial information to a caller or visitor you don't know.
Don't wire money or provide numbers from gift cards to anyone who contacts you on utility matters.
Don't get scared. A scammer will try to convince you the lights or water are about to go out. If you're actually behind on payments, the utility will send you a delinquent notice, probably more than once, and tell you the prospective shutoff date.
Don't let a supposed utility employee into your home unless you have scheduled an appointment or reported a problem. Even if you have, check their identification first.
Don't click on links in a utility-related email or text message unless you're certain it's from a real company.
Report Utility Scams
If you got a call from or were contacted by a fake utility company
And be sure to let other people know about this scam. Then they can avoid it, too.